Getting physiotherapy privately offers a lot of benefits. Waiting weeks or even months on a waiting list to get treated for severe pain is often a very frustrating experience. Chronic pain is not really indicative of how serious a problem is. Sometimes we can be in a lot of pain but the root of the problem is easily fixable. Sometimes serious problems do not present with a lot of pain and so we put it to the back of our mind to avoid going through the long cycle of referrals and waiting lists.

Private physiotherapy offers preventative measures. If you're a sports person or athlete, either professionally or for fun, physiotherapy can help you avoid getting a serious injury. Whatever your lifestyle, getting an MOT at a physiotherapists can identify little problems before they become big ones.

At Sheffield Physiotherapy we have advanced equipment that is simply not available anywhere else in Sheffield. We provide technology such as IDD and PAM therapy which have helped many people recover quickly from long term injuries. Our latest investment to our clinic, ViMove, allows us to assess injuries and biomechanics with a precision that has been traditionally unachievable.

We of course recognise that private physiotherapy is not affordable for everyone, which is why we've teamed up with YourPhysioPlan. YourPhysioPlan provides monthly plans that spread out the cost of treatment. Different plans are available depending on your requirements. Joining any plan will give you 10% off any extra physiotherapy session at Sheffield Physiotherapy and means you can get a discounted rate on MRI scans if you need them. YourPhysioPlan benefits also include access to programmes, videos and apps as well as unlimited email support from physiotherapy professionals that will answer any questions you may have.

So, which plan is right for you?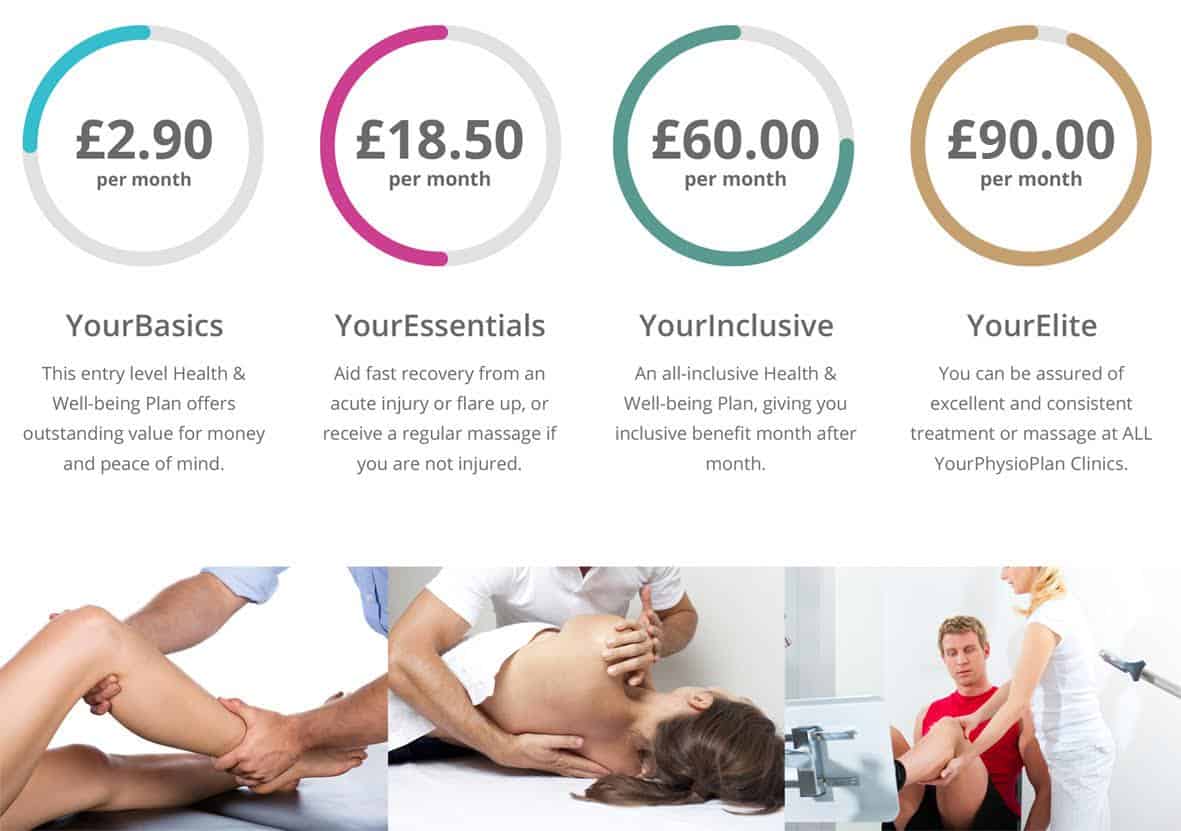 YourBasics starts from £2.90 per month. YourBasics will give you access to one physiotherapy assessment or MOT per year, or if you'd prefer, a massage or acupuncture session. This will put you in good stead to avoid injury, identify problems before they worsen and give you peace of mind. This plan also enables you to get a 10% discount off other treatments such as PAMM or IDD therapy, complementary therapies or traditional physiotherapy sessions.

YourEssentials is £18.50 per month. Chose up to 6 sessions throughout your 12 month plan. You can chose when, or how to have these sessions. You can use your allowance for physiotherapy, PAMM therapy, Theraflex, massage, acupuncture or conditioning. You can also get 10% discount when booking any further sessions including IDD therapy. With this plan, you are entitled to one free upgrade per year to a ViMove assessment.

YourInclusive is £60 per month. This plan provides you with two sessions per month. You can chose to have physiotherapy, PAMM therapy, Theraflex, acupuncture, massage, or strength and conditioning. You can also use your 10% discount on any further appointments. With this plan, you are entitled to two free upgrades per year to a ViMove assessment.

YourElite is £90 per month. You get the same 2 session allowance as the YourInclusive plan, but you can use those sessions at any physiotherapy clinic which is partnered with YourPhysioPlan, not just Sheffield Physiotherapy. Your 10% discount on any extra sessions at Sheffield Physiotherapy is still included.

YourPhysioPlan is making private physiotherapy far more accessible. It helps you to budget and spread the cost of treatment by direct debit and allows you to save money on treatment. To hear more about YourPhysioPlan and discuss joining call 0114 268 6677 or email info@sheffieldphysiotherapy.co.uk and we'll be happy to guide you through the process.