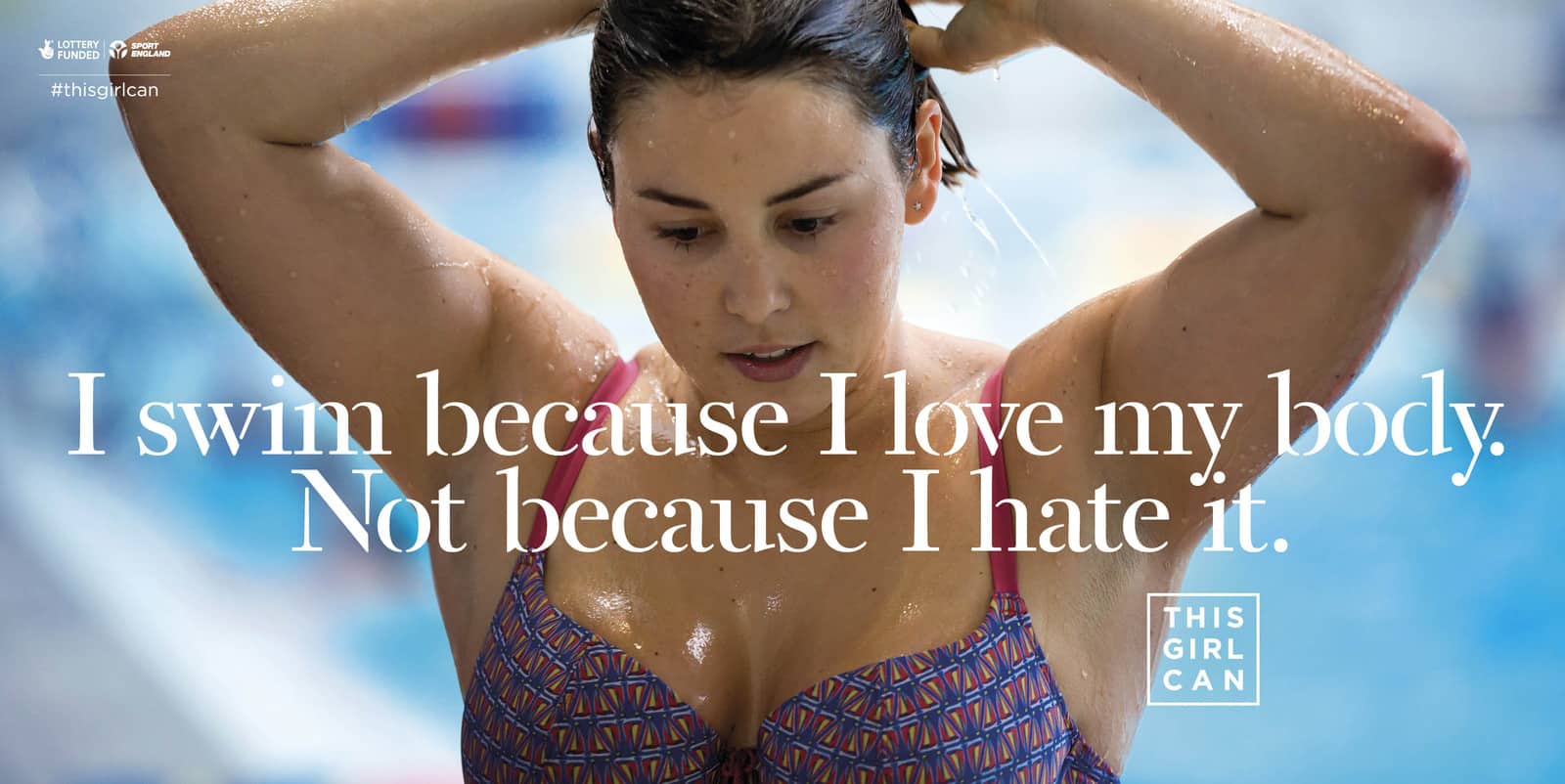 #thisgirlcan is a partner of the Move More Sheffield wide strategy. Move More's goal is to make Sheffield the most active city by 2020, they have a range of classes, fundraisers and other activities listed on their website as well as an app that can help you track your activity.
This Girl Can recognise that there are two million fewer women aged 14-40 than men doing regular sport. This Girl Can support the positive message that exercising is about loving your body – not hating it. There are benefits to exercise other than getting in shape and we support This Girl Can's aim to get more women exercising confidently and safely.
Even though there are still less women doing sports than men, around the world the number of women becoming dedicated to their fitness is rising. There has been a 10% rise of profits in the women's active-wear market from last year, and it's not slowing down. So, what changes are encouraging so many women to participate in sport and exercise?
Relate-able and positive role models
The veil has been lifted on celebrities, women are realising that they have access to personal trainers, dietitians, liposuction, plastic surgery and Photoshop. A lot of us now no longer expect to look like our favorite celeb if we invest in their weight-loss videos and books. Through social media, everyday women are becoming fitness icons, rising to fame by sharing their fitness and nutrition tips, and they have relatable bodies and lifestyles.
More recognition of female athletes
Sports men have consistently had more recognition than female athletes, but female athletes have recently started to gain much more attention. Vogue put Serena Williams on their April issue cover. Tennis star Maria Sharapova landed endorsements for Porche, Evian, Nike and Cole Haan. And the London Olympics placed Jessica Ennis firmly in the public eye. Jessica has been doing a lot of work with the press to encourage young girls to get into sport.
More information about female body types
Men and women physically differ, so fitness advice aimed at men is not always useful to women. The structure of women's bones and muscles is different to men, and there is now much more information about this that helps women understand how to exercise and the potential injuries and problems they might face. The fluctuation of female hormones is different week to week and pregnancy or menopause can be a shock to the system that affects how we exercise. Bodyform recently launched a campaign called Red.Fit. Knocked Up Fitness and Fit to be Pregnant for fitness in pregnancy tips. The Health Lines favorite blogs about menopause are great for ladies at the other end of the cycle.
Increase in Community
This Girl Can found out that women are much more likely to exercise if they do it with a friend or sign up to a class. Gyms are aware of this and have a variety of classes that help women work out cooperatively. Exercise is more fun for most of us if it's a social activity. Before the internet it was harder to find classes or groups to go to, but we can now access classes that sound appealing more easily. All sorts of unusual classes are popping up around Sheffield that help us spice up our training routine and social life.
Even running around the block or working out at home can be social. There are nearly 70 million women around the world who are using Nikes training apps; Nike + Running and Nike + Training club. The ability to share our work outs with women as far reached as Australia means we can get support, motivation and a sense of belonging, wherever we are, even if we have no friends locally who are interested in fitness.
Body positivity
Being fit and healthy is about loving your body, not punishing it. There are plenty of women around the world who are taking up fitness as a permanent positive life style change and not a short term way to lose weight. If you're a woman who feels judged about her size when you go out to exercise, then you may take inspiration from these plus size bloggers who are enjoying activities like running, yoga and triathletes.
As physiotherapists we understand the exercise requirements of different body types and the changing needs of women throughout each stage of her life. Feel free to contact us on Facebook or Twitter (@sphysiotherapy) if you have any questions about exercising or injury.