The latest in wearable sensor technology is now available at Sheffield Physiotherapy. Aches, pain and injuries keep you away from what you want to do. We aim to help you get back to activities you've been avoiding. To do that, we need to tailor a treatment plan that's unique to you.

Now we have a great tool that helps us do just that. It's called ViMove and it uses revolutionary wireless wearable sensors to objectively measure exactly how you move. These are the same sensors that elite sports trainers are using with Olympians and professional athletes to prevent and manage injuries and guide recovery and return to play. By recording data at 200 frames per second, ViMove provides our team with visual, objective, easily interpreted data to improve your assessments, choose and manage treatment options designed just for you, and document your therapy progress. We are the first clinic in Sheffield to be able to provide this technology.

ViMove is not just for Olympian athletes and premiership footballers. It is now both affordable and accessible. We are offering ViMove to anyone who has been dealing with on-going back pain. By monitoring how your back is moving, we can identify exactly what's wrong with an accuracy that's never been available outside of a biomechanics lab and tailor a treatment plan that's right for you.

This August you can book a full ViMove back assessment with a £40 discount! A ViMove back assessment is usually £100, but for a limited time we're providing assessments for only £60. Call us on 0114 268 6677 or email info@sheffieldphysiotherapy.co.uk to take advantage of this special offer.

How does ViMove work?

ViMove sensors stick to the skin using low irritant, disposable adhesive pads. There are two different types of sensors that have tiny electronics built inside: Movement sensors and Muscle Sensors (EMG).

The movement sensors are about the size of a small USB stick and can be placed on different parts of your body to record different movements to capture and quantify how you bend, twist, and move. The system uses two of those. Your physiotherapist may also use a second pair of sensors called muscle activity sensors or EMGs. These sensors are designed to assess the health of muscles and the nerve cells that control them. The EMG sensors capture imperceptible twitches of your muscles and the ViMove system turns that data into easily interpreted graphs and data for our team to better assess your strengths and weaknesses.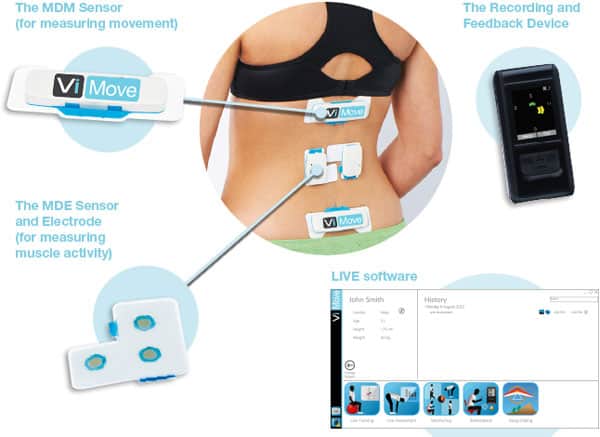 The sensors send the data wirelessly to pager sized Recording and feedback Device (RFD) that talks to software on our computers. The system also allows us to videotape you so that we can show you what's happening with the data when you move in a certain way.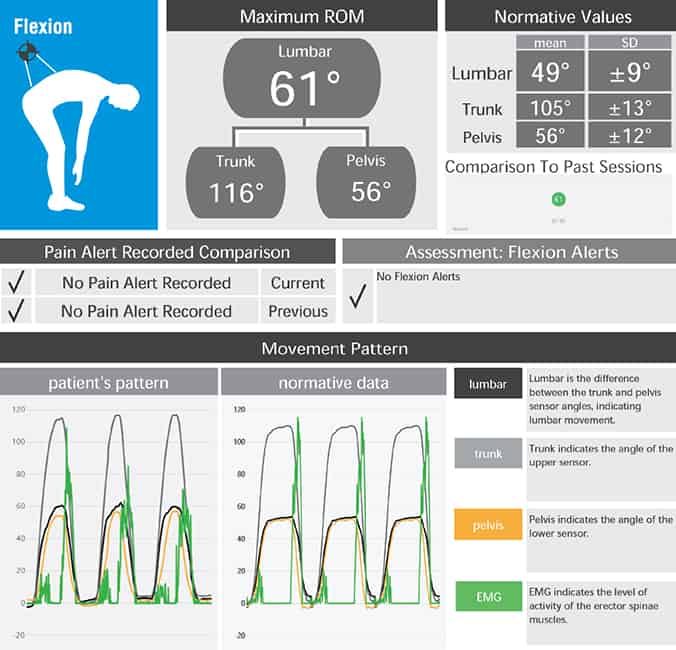 How a ViMove Back Assessment helped a factory worker with back pain

The Problem

A patient with a history of sudden-onset low back pain came into a ViMove clinic looking for a solution to his back pain. Working as a furniture delivery man, this patient had to carry heavy objects on a daily basis and was experiencing constant low back pain. Sitting, static standing, bending and lifting were all reported to be a challenge for this patient.

ViMove Low Back Baseline Assessment

To begin, a baseline of the patient's lumbo-pelvic movement range and quality of his sitting and standing postures was obtained. ViMove's Low Back Assessment identified overactive EMG with poor flexion relaxation response. The assessment also determined that the patient's sitting and standing postures were within the normal ranges. This prompted the physiotherapist to conduct an out-ofclinic ViMove Monitoring Session with the patient.

Although the patient thought he maintained correct posture throughout the day, the insights from ViMove gave him a clear indication into his actual postural habits.

ViMove Low Back Retraining

ViMove's Low Back Live Training Module was then used to assist in retraining the patient's sitting posture and help him achieve neutral lumbar posture while moving from sitting to standing. Once adequate and reliable posture awareness and lumbo-pelvic control could be demonstrated, the patient was instructed to perform the same exercises at home at regular intervals.

Results

Through performing these exercises and receiving constant support from his physiotherapist and ViMove, the patient is now reporting a reduction in low back pain and has a renewed confidence in improving his overall condition.

To view a full sample ViMove back assessment report, please click here. For more information about ViMove or our special offer, please call 0114 268 6677 or email info@sheffieldphysiotherapy.co.uk.