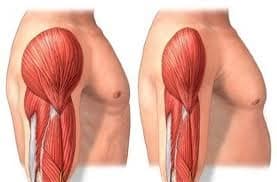 Sarcopenia is the medical term for muscle loss. It's Greek meaning is 'vanishing flesh'. It happens to all of us, beginning at the age of 25. Once you hit 60 the process starts accelerating dramatically. As you age neural pathways in the brain that control muscles are lost or damaged and cause muscles to atrophy through lack of use.

Whilst muscle loss is slow to start with, you may look back and realise your physique has changed over the last 10 years. Although you fit into the same clothes, muscle loss might mean you look less toned. This is problematic aesthetically, but it's even worse for your health.

Muscle mass burns off calories, even when we're resting. The more muscle we have, the easier it is to keep weight off. Muscle loss is one of the reasons our metabolism declines as we get older. Having a low metabolism is a vicious cycle. The lower it is, the more fat you produce, the heavier you get through fat gain and the harder it is to exercise.

Losing muscle isn't just distressing because it makes you put on weight, it can also reduce your balance and coordination. As people age they find it difficult to balance and react to a situation such as catching something. This makes them much more prone to accidents and falls. This, more often than not, is caused by changes in their muscles and tendons. It can create a sedentary lifestyle in old age.

Age related muscle deterioration is inevitable but there is a lot you can do to keep it to a minimum. It is ideal to keep fit and healthy throughout your life, the good news is it's never too late to start.

1. Resistance Training

The more muscle you have, the more muscle you can stand to lose. Therefore resistance training, which involves contracting your muscles as hard as you can, is key to avoiding sarcopenia. You can do resistance training with weights, machines, bands or even your own body weight (sit ups, squats, press ups etc). Resistance training can reverse the affects of sarcopenia even in the elderly.

2. Exercise

Keeping an active lifestyle helps stimulate the release of hormones that promote healthy muscle mass. Aerobic exercise should go along side your resistance training to avoid muscle loss.

3. Protein

Inadequate protein intake is a major contributing factor in sarcopenia. Meat is a good source of protein but too much can cause a low grade metabolic acidosis that can contribute to bone and muscle loss. It's important to eat a variety of proteins, which are found in vegetables and pulses. A balanced diet, abundant in non processed foods is crucial.

4. Keep mobile

If you are experiencing on-going joint pain, back pain or are still suffering the effects of an injury, this will limit your mobility. To make the journey into old age easier, you need to be as fit and well as possible. If you are experiencing a problem that is making exercise difficult for you, physiotherapy may help. Keeping fit and strong requires all of your muscles and joints to work together, don't allow pain to hold you back.