You don't need a doctors referral to make an appointment at Sheffield Physiotherapy. However if you wish to use health insurance to pay for your treatment they may ask you to be referred by your doctor.
How long are the sessions?
Initial assessment: 45-60 minutes.
Follow up treatment: 30 minutes.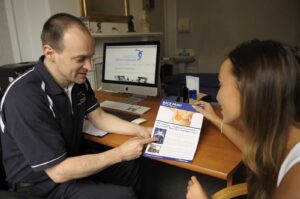 What are your opening times?
Monday – Friday 8:00am – 6:30pm.
What is the cost of treatment?
Initial Physiotherapy Assessment (45 mins): £50.00.
Follow-up Treatment including PAMM Therapy (30 mins): £40
IDD Non-surgical Spinal Decompression (45 mins): £60
Student discount for full time students with a valid NUS Card
Physiotherapy Assessment £40 Physiotherapy Treatment £30
Treatment with John Wood Lead Physiotherapist
Physiotherapy Assessment (45 mins): £60.00
Follow-up Physiotherapy (30 min): £50
What payment methods do you accept?
We currently accept cash, cheque or the following cards
:



Are all your physiotherapists qualified?
Yes, all our physiotherapists are chartered and members of the Health Professions Council.

Are you approved by Westfield?
Yes, all our physiotherapy treatments are covered by Westfield.
Are you approved by my health insurance company?
Yes, we are recognised by all major health insurance companies.
I've previously had physiotherapy, osteopathy or chiropractic and it didn't work, is it still worth having treatment?
A large number of our clients have previously had treatment which has not been fully successful. Our approach focuses on treating the causes of the condition and the restoration of normal biomechanics. Experience has taught us that the body has tremendous healing potential, and that once mechanical over-strain is reduced the tissues will begin to heal.