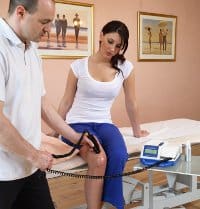 Pain relief in Sheffield from SheffieldPhysiotherapy.co.uk. Our South Yorkshire based pain relief clinic is a leading centre for the treatment of back pain and other muscular aches and pains. Our qualified physiotherapists have the experience needed to diagnose, treat and advise best how to stay pain free.
For many of us, when we develop minor pains over a period of time we tend to get used to it, often brushing the pain aside. This can lead to more serious problems later on, and it's easy to put yourself in a position where more physiotherapy treatment is required than would have been the case if treatment was started sooner.
Sheffield Physiotherapy provides many different services for pain relief for the most common problems. Headaches are often taken as a routine part of life, but physiotherapists at our clinic have helped people recover from long term headaches.
The pain most encountered by the average working man or woman is back pain, and this seriously affects people's quality of life. Back pain relief is often just a few a few sessions away, but the important part is accepting there is something that needs fixing and then finding the time.
If you need pain relief for any part of the body, including neck, shoulders, legs or back, please contact us today to find out how to start the road to recovery.